Aminata Dominique Diouf was seven years old when her father bought a small farm 15 minutes from the Senegal-Gambia border.
"At that age I didn't really know what agriculture was," she says. "I was just dazzled by the colours: running, jumping, touching, watching people working under the warm sun and the songs of birds."
A few years later she got the chance to travel to the USA to visit her penpal and improve her English. Next to her penpal's house was a large tract of land where she saw a man driving a tractor.
"I was surprised, amazed and full of questions so one day I decide to visit him. He explained why he chose this job instead of working in an office. Since that day I decided to be a farmer. I told my dad that I wanted to take over his mango farm when I graduated college," says Aminata.
In 2017, at the age of 26 she did just that, becoming the CEO of Domaine Agricole de Nema. With 35 full-time employees, 20,000 mango trees and partners in five countries, Domaine Agricole de Nema has become one of Senegal's largest agricultural estates and perhaps the only one with a woman at the helm. 
"I told my dad that I wanted to take over his mango farm when I graduated college."
Aminata Dominique Diouf
The Domaine Agricole de Nema now has more than 150 employees and is highly mechanized. Located in the village of Nemanding in the Fatick region, it is a mere fifteen-minute drive from the Gambian border. The estate covers an area of 172 hectares, with three plots, called Kawsara, Khelkom and Nema
"We have been working with Aminata for the past 24 months, helping her fight white fly in her crops and introducing her to new markets for Senegalese mangoes," says Cheikh Saadbouh Seck, Coordinator of National Implementation Unit of the Enhanced Integrated Framework at Senegal's Ministry of Commerce.
The Enhanced Integrated Framework (EIF) seeks to support least developed countries improve their supply of products to the global market, strengthening employment, tackling poverty and taking vital steps forward in terms of socio-economic development.
Between 2012-2013, EIF identified that Senegal's mango sector had a lot of untapped potential.
"At the time we were producing 150,000 tonnes of mangoes per year [in Senegal] but didn't have the right certifications to export to international markets," Seck says.  
The mango project formulation started in 2013. Approved in August 2014 by EIF, it began being implemented in 2015.
"Since the beginning of this project in 2015 we've been working to build the standards needed to access these markets: providing technical training to farmers to improve their practices and building infrastructure such as ports, shipping services, storage and processing plants so Senegal can export a wide variety of mango products."
 In recent years, Senegal has become the second most important West African source of mangoes, after the Ivory Coast.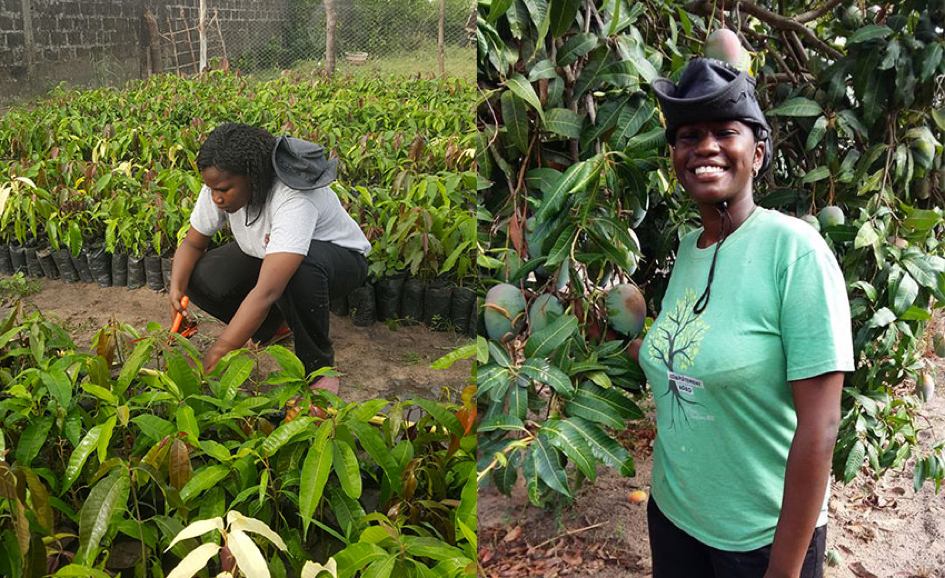 WOMEN'S EMPOWERMENT CAN LEAD THE EXPORT DRIVE
There is a sharp distinction in the roles allotted to men and women in the production and sale of mangos, though women represent 45% of the actors in the sector overall.
"On the African continent, women participate in farming and food processing and play a huge role in food security, but they don't have the same rights as men regarding the land. Women generally don't have their own land," Aminata says.
The concerns and inclusion of women were integrated throughout the implementation of the project, using an inclusive approach that looked at female participation at every step of production: from growth, to harvest, to export. In mapping the value chain, it was revealed that women represented 90% of the players in marketing, and 80% of the export packaging labour force.
"On the African continent, women participate in farming and food processing and play a huge role in food security, but they don't have the same rights as men regarding the land. Women generally don't have their own land."
Aminata Dominique Diouf
In total, 1211 producers, companies, harvesters and transporters have been trained under the EIF project in harvesting methods, quality norms and techniques to combat mango pests. Youth were organised into six associations that allowed for greater participation in training schemes.
Aminata decided to join the training for several reasons: "I wanted to improve my company in the best way and carefully expand into the international market. I was also happy to see our government investing more in agriculture in order to reduce the unemployment rate of youth in this country," she says.
By applying what she learnt about pest reduction and making extensive use of irrigation and modern equipment, Aminata has been able to supply fresh mangoes to market before the official opening of the season, giving her business a leg up on other producers.
She has also managed to get international certification with Tesco Nurture and GLOBALG.A.P., and was given an opportunity to attend trade talks in Morocco. Introductions to importers, port managers, customs and government officials were incredibly helpful for the future of her production in this new market, she said.
Aminata's story illustrates Senegal's success in strengthening mango supply chains. By situating her business at the centre of the deepening mango value chain, Aminata has been able to offer benefits to the wider society.
"This project has had a huge impact on my life and the lives of others. Most importantly it has allowed me to hire and support young people from surrounding villages," she says, adding that her company offers on-site housing for worker families and a health centre for people of the surrounding villages.
"We now know the international market better and how to find solutions to weaknesses in our company. This project has allowed me to be trusted by financial institutions in order to get bank loans."
With the bank loans and knowledge learnt from participating in the project activities, Aminata was able to open her first food-processing facility. In Senegal, women represent 83% of labour force at the processing level in the mango industry.
"We will export fifteen high quality products to new market: dried mangoes, mango juice, vinegar, jam, chutney, syrup, compote… even mango baby food!"
Challenges still remain. Even now only a handful of companies — like Domaine Agriculture — can export to the EU and US, and only one company exports to Canada. The challenge of adding value to exports is ever-present.   
"We are committed to working together — government, private sector, civil society, development partners — to spur spillover and multiplier effects of EIF support and to improve everyone's capacity. We are also working towards having the best possible strategy for mango sector throughout the value chain, from production to processing, logistics, and marketing to consumers. If all of us work together we can resolve any problems," Seck says.
Aminata considers herself one of the 'lucky ones'.
"I have had the chance to get more than 172 hectares in Senegal. I intend to push for more Senegalese women to have their own private enterprise farms in Senegal," she says.
"It is time to stand up, wake up, look to the land and invest massively in farming and women." 
Annette Mutaawe Ssemuwemba is the Deputy Executive Director, Executive Secretariat for the Enhanced Integrated Framework (EIF). 
Credits
Header photo by Manuel Unigarro/Flickr
Disclaimer
Any views and opinions expressed on Trade for Development News are those of the author(s), and do not necessarily reflect those of EIF.